Ahead of us lies the burning road. The strong survive while the lethargic and temporary are cast into the void. 3 games, 3 chances to foster upon the world all that we have hungered for. For the players, they have sweat through shirts and bled through layers of skin that are meant to protect them from what lies beyond. 3 games, 3 dances with fate and the chance to prove that we belong at the top of this scrapheap. With claws sharpened and eyes affixed upon what was once so elusive and yet now is within our grasp, we snarl at the wind to remind it who is boss.
We are RAWRCATZ.
/literary postulations
Tonight we play Buffalo in what many think should be the last "should win" game for the RAWRCATZ. But we cannot look ahead. Turner Gill, once the "next great thing" in college football coaching lore, now stares down the double barrel shot gun of the RAWRCATZ on the prowl. We here at RAWRCATZRAWR have one simple word for Turner Gill, "oops."
Oops - You should have taken the money and run. This is a business, son. In recent years schools with long-established coaches like NIU and Southern Miss got on their bandwagons and ushered people out the door. So you won a few games, nobody is going to remember that when you are the special teams coach at Norfolk State in 3 years. You had a chance to get out, to get paid, and to live in an area that wasn't, you know, Buffalo. But instead you stuck to your guns. You stood by the program that stood by you. And now you're just a guy at a MAC school who is holding onto his paychecks because they might be their last. Integrity, that's a real bitch.
So Buffalo limps into this game having just been accosted by a late Bowling Green push. They think they have luck on their side though. They should have beaten BGSU. They had the game in their cloven hooves and they threw it away. Or rather they let it get blocked twice and turned into 2 touchdowns. Special teams gaffs are a brooding trend with this team, look for Tuesday night to be no different.
Buffalo Fighting Turner Gills (a.k.a. Bulls):
Strengths:
-TURNER GILL!
-Playing at home
-Have large fatty reserves that get them through the winter
-Naaman Roosevelt is pretty good and has a sweet first name
Weaknesses:
-Turner Gill?
-Dumb lumbering animals
-Really should be extinct
-No James Starks
Prognosis:
The Bulls will be at home, but not on the plains, in the vast wintry wasteland that is Buffalo. Unfortunately for them the RAWRCATZ are 4 - 1 on the road this year. When we put on the sparkly all whites we are ferocious. They do have Turner Gill, but some in the Buffalolo media are saying that he has become too conservative for his own good. This is not good. RAWRCATZ will eat your conservative alive. Naaman Roosevelt has a pretty sweet name, but what's in a name these days?
Predicted Outcome: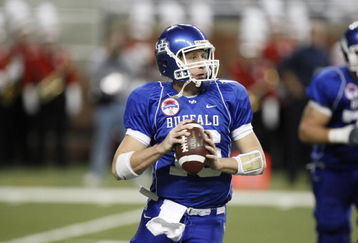 If it comes down to who looks better, this is a win. RAWRCATZ have some of the sickest jerseys in all of the FBS. Buffalo cannot compete with that. I mean, their jerseys look like what Kentucky threw away 6 years ago. At least they got rid of the horns on the helmet that made them look like they were members of the Loyal Order of the Water Buffalo. If based on jerseys alone I would say RAWRCATZ by 3,000. But since this is a game played by young men, and Buffalo has some skilled ones, I'll go easy on them.
RAWRCATZ - 27 Fighting Turner Gills - 21
BONUS PREDICTION: Frank Solich v. Turner Gill - Mortal Kombat competition
Frank wins the coin toss and gets to pick first and wisely picks Scorpion, who was easily the best character in MK1. Turner Gill picks Johnny Cage, which, lol.
Rd. 1 FIGHT!
Frank busts out the easily defensed spear toss, but Turner Gill is busy looking at the pile of money he turned down to coach at a decent institution and it hits like thunder. As expected this is followed up with an uppercut. Already down to half his health meter Johnny Cage, shades and all, opens up an impressive barrage of punches. Turner Gill doesn't know that he can hit other buttons and just hits 'b' on repeat. Scorpion flips over Cage and roundhouse kicks him to the back of the head. Another spear and uppercut and round 1 is over.
Rd. 2 FIGHT!
Frank, thinking he can run the gauntlet with another spear, throws off right off the bat. Turner ducks and does a running slide kick sending Scorpion flailing. Gill immediately jumps but hits block instead of kick and lands harmlessly on the other side of the fallen Scorpion. He rises with an uppercut, which draws an "ooooh" from the onlookers, including Boo Jackson who's smile looks like a million dollars. Just like the million dollars that Turner Gill gave up to stay at Buffalo. Gill, turning to see the source of illumination falls for a series of swift high punches that leaves him near dead. A roar comes over the crowd and before Johnny Cage can regain his composure a familiar phrase emanates from the machine:
FINISH HIM!
Scorpion casually pulls off his hood, spits the fire of Johnny Cage's death and raises a fist in victory. Frank Solich ends all with the infinite bitch slap. FATALITY!
And you know the blood code was on.